Hundreds Of Chimps Who Grew Up In A Lab Are About To Be Set Free
More than 200 chimps who spent their lives in a lab are about to have their first taste of freedom.
Among their number will be Hercules and Leo, two chimps who have been the focus of a years-long battle by Jane Goodall and other advocates to free them.
The New Iberia Research Center - a University of Louisiana research facility that has long attracted criticism for its extensive chimp research program - has agreed to release its population of 220 chimps into the care of Project Chimps, a new sanctuary that just announced its creation on Tuesday.
Shutterstock
"We're making history here," Sarah Baeckler Davis, president of Project Chimps, said in a statement. "It's an unprecedented collaboration and a momentous occasion for chimpanzees."
It will be one of the largest chimp releases in history, and the first time that a private research program has agreed to release all of its chimps - reflecting a significant change in public acceptance of chimp experimentation.
"There is one 1-year-old, that's the youngest, and they go up through grandmas and grandpas," Baeckler Davis told The Dodo. The oldest is 50. Most of the 220 chimps were born into New Iberia's breeding program; the oldest ones were likely taken from the wild.
For many, Project Chimps will be their first taste of life outside a lab.
"It's a whole new world for these guys," Baeckler Davis added.
Shutterstock
The chimps' new home will be on an expansive 236-acre property in Blue Ridge, Georgia. The sanctuary can currently house around 100 animals, and Project Chimps is building up the property to house more - it hopes to hold around 300 chimps eventually.
New Iberia plans to send the first 10 animals to Project Chimps in June, which will slowly integrate small groups of chimps into cohesive family groups over the next few years.
Baeckler Davis said the sanctuary hopes to create an environment that mirrors wild chimps' fluid social structure. "So they'll come together at certain times and then split off," she said.
While all of the chimps have their own stories, Hercules and Leo are probably the best known. Last month, Goodall released a video statement in conjunction with the Nonhuman Rights Project pleading for New Iberia "to release them to sanctuary so that they can live out the rest of their lives in dignity."
"There can be no good reason to prolong their lives of servitude," she said of Hercules and Leo at the time. "So please, I beg of you, do the right thing."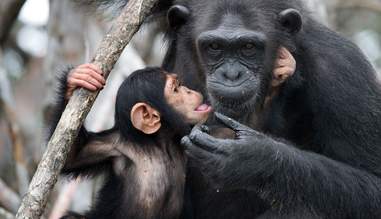 Shutterstock
In a statement on Tuesday, Goodall congratulated Project Chimps and New Iberia on their agreement, which she called an "historic achievement for chimpanzees."
"I am 100 percent in support, and am so glad this dream is coming true," she said.
Goodall isn't the only well-known figure to pledge her support to the chimps. A number of other celebrities have also been involved, including Green Day's Billie Joe Armstrong, actress Judy Greer, singer Pink, celebrity cook Rachael Ray (who sponsored the sanctuary's kitchen), tattoo artist Kat Von D and tennis star Serena Williams.
But for Baeckler Davis, the most important thing is that these chimps will finally have somewhere to retire in peace.
"It's the project of a lifetime for all of us," she said. "I definitely get teary when I allow myself to think about its magnitude."
Project Chimps will eventually host private educational tours - and there will be webcams for people who can't visit in person. If you'd like to help bring these chimps home, you can make a donation here.
To stay up-to-date, you can follow Project Chimps on Facebook, Instagram and Twitter.