Rachel Gruen had already added three shelter cats to her family - she wasn't planning on adding another.
But then she was browsing online and happened upon a story about a black cat rescued from a laboratory by the Beagle Freedom Project. "When I saw Xander's captivating yellow eyes and handsome black fur, I just fell in love with him," Gruen told The Dodo. "I applied to adopt him."
"When I met him at his foster home, he immediately laid down on my lap, which I later realized was unique because he wasn't a lap cat at all," Gruen said. "He definitely chose me."
While people may have heard about primate labs or mice and rats used in research, it may come as a surprise that cats and dogs just like their own pets are experimented on in labs across the country. Even though she's an animal lover, Gruen admits that didn't know anything about cats used in research laboratories when she first adopted the black cat. "All I knew was that he trusted me to love him forever - that was the easy part."
He was named Jax in his foster home, but Gruen renamed her new family member Xander, which, according to Gruen, means "defender of all." Gruen explained: "I knew that he was meant to be a spokescat for all of the voiceless, nameless lab animals still waiting in labs around the world to be freed."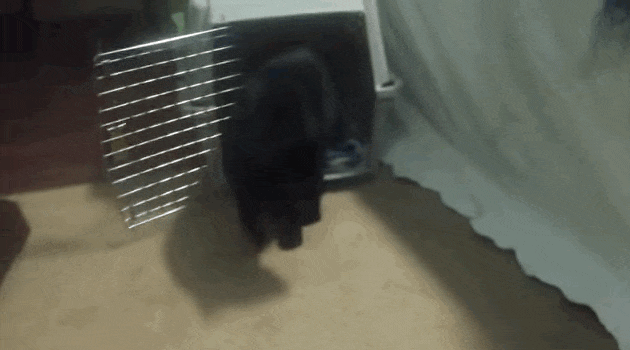 YouTube/BFP
Gruen wanted to learn more about where Xander came from. "I set about educating myself on everything, and I decided that we would focus his page on cruelty-free shopping," Gruen said. While the laboratory where Xander came from did not disclose what kind of research Xander was used for, Gruen wanted to give voice to animals of all kinds who are subject to experimentation, including rabbits and guinea pigs, who are often used for cosmetic testing.
YouTube/BFP
"I understand some people think animals need to be used for medical research but there is NO reason to test cosmetics and household cleaners on them," Gruen said.
Cats aren't usually used in cosmetic tests, but rather medical labs to study serious medical issues. So discussing their use in experimentation becomes more complicated.
According to the National Anti-Vivisection Society (NAVS) website: "Cats are common experimental subjects in neurological studies, like studies of spinal cord injuries, and in studies of hearing and vision disorders. They are used in research for type II diabetes, cardiovascular disease, hematological disorders, and immunological studies. As cats can contract feline immunodeficiency virus and feline leukemia, they are used as models for human immunodeficiency virus (HIV) and human leukemia."
Some cats in research environments have been shown to suffer from boredom, fearfulness, aggression towards people and other cats, and self mutilation, according to the group.
While the use of cats in medical labs has decreased in recent years, many are still in laboratories right now. "According to the 2013 U.S. Department of Agriculture annual reports, 21,074 cats were reported to be used in research and 1,247 held in facilities but not used for research that year," Pascaline Clerc, senior director of policy and advocacy for the Humane Society of the United States' (HSUS)' Animal Research Issues campaign, told The Dodo.
Animals for research are obtained from two different kinds of sources: Class A and Class B. Class A dealers breed animals for use in labs, whereas Class B dealers acquire dogs and cats from "random sources" and sell them to research institutions for use in experiments. According to HSUS, Class B's "random sources" include auctions, flea markets and animal shelters.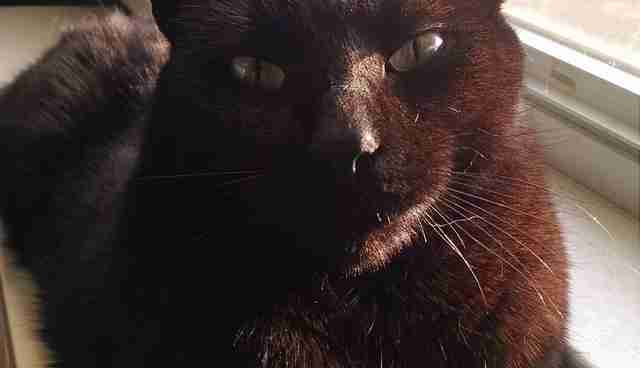 "Some Class B dealers have also been known to obtain animals from unregulated middlemen known as 'bunchers,' who have been documented acquiring lost, stray and 'free to a good home' pets," the HSUS factsheet on Pets Used in Experiments reports.
Luckily, there have been some recent wins in this area. In 2015, the largest Class B dealer went out of business and the USDA is prohibited from licensing dealers in the coming year, according to HSUS.
"Dogs and cats occupy a particularly important place in American society in their roles as companion, work, and hobby animals," a 2009 government report observed:
In addition, they serve as important animal models for research that has advanced both human and animal health. This multifaceted relationship with humans has fostered an uneasy tension between general society and the scientific community, and this tension has intensified as the stature of pet dogs and cats has risen in many households to that of family member. It is thus not possible to accurately assess the desirability and necessity of using random source dogs and cats, and in particular those from Class B dealers, for research without taking into account public perceptions, the impact of the animal protection movement both on public attitudes and on the availability of these animals for research, changing trends in the use of animal models for research, and responses of the scientific community to all of these factors.
Some groups, who know how nuanced and complicated the question of animals used in medical research is, are working to find alternatives in the long run to reduce the use of animals in labs.
For now, though, Xander - the cat who survived the lab to live a new life - and his mom are focusing efforts on doing what they can for animals in labs: "Shopping cruelty-free is a way to truly make a difference in a fight against animal research that seems hopeless sometimes," Gruen said.