But this sweet cat was sprung from the shelter a couple of weeks ago, when veterinary technician Cara Seiffert, of Lowell, Massachusetts, wandered in and immediately fell in love with Boots. She took him home, where he's quickly settled into life with his new forever family.
"I had no intentions of adopting anything," Seiffert told The Dodo, but she fell in love with Boots. "Just how sweet he was, and his personality, I couldn't leave him there."
"He's spending more time sleeping with his humans (senior cats are nice and mellow that way) and following them around the house wherever they go," the shelter posted. Boots seems just as smitten with his new family as they are with him.
"Senior pets are absolutely wonderful," Seiffert told The Dodo. But she cautioned that families adopting senior pets should be prepared to give their new family members extra care and attention - which can sometimes be pricey.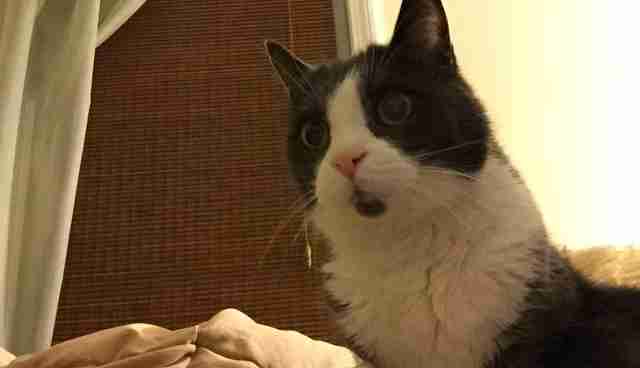 "He's an awesome old man and (we are) so happy to have him!" Seiffert told the staff at the MSPCA. Boots' story is proof that age is just a number - senior animals are just as sweet and deserving of new homes as any other critters. Congrats, Boots, and enjoy your comfy new life.
If you're ready to open your home to a senior dog or cat, visit Adopt-a-Pet.com to see available rescues.