13 Ways Black Cats Make Life Amazing
<em><a class="checked-link" href="https://www.flickr.com/photos/ibantorras/14657849403/in/photolist-6BzrJ3-oygVJR-cKQMC7-fuLcD-oA2sTb-h3ZBr-9dXYge-kvn2Nr-5AhtLx-8VT6Bu-2ESmpU-okgiXr-ovBj7J-ioGAq9-5Qb1ku-4VfuHW-5NBwYB-8PP7sn-8BeSxd-3DTQzu-5BWTyC-8NYB43-9yBEGA-dyAL8M-92LtWT-a5xrna-bn4cKL-nboaB7-92GCe-3Pg98y-9yBFbw-FixpQ-aNJZ9X-bHkJ7Z-ahjyck-hRY1V7-E7yjE-eEM4LV-dPEb3X-uVcxh-5KiUbe-9ybJMG-63rz7B-amPhRS-dGZk1Z-6jjcQF-9pwhGp-4moahx-kDaTw-7aHeuY">Flickr/Iban Torras</a></em>
Black cats don't always have the best rep - shelters report they have lower adoption rates than animals of any other color. This is totally crazy, of course, since black cats are in fact utterly purrfect specimens of feline-kind. Here are just a few reasons to appreciate them.
1. Like a tuxedo or little black dress, black cats have a timeless sophistication and grace.
2. They take exquisite photographs...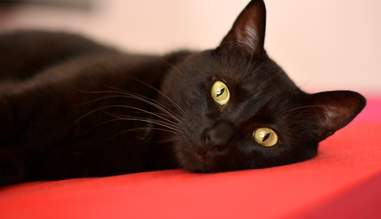 3. And they never go out of style.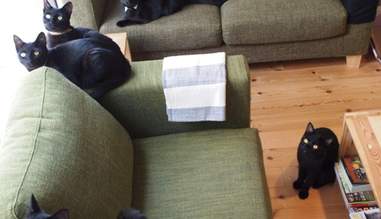 6. Sailors especially thought black cats brought good fortune on a long sea voyage.
7. Superstitions aside, they're the perfectly logical choice.
8. Black cats will keep watch for you from the shadows.
9. And instantly blend into your monochrome decor.
10. They have the prowess of a panther...
11. And the ferociousness of a bear.
12. And if you look long enough into their mesmerizing, high-contrast eyes...
13. You just might learn the secrets of the universe.
In the end, of course... All cats are the best cats. When you're adopting one, choose a cat whose personality fits your lifestyle and who you connect with - not based on a color!