For the last night of the Ringling Bros. and Barnum & Bailey circus in downtown Brooklyn, New York, a group of protesters showed up to voice their opposition to the event, which brought elephants, tigers, kangaroos and other animals to the Barclays Center.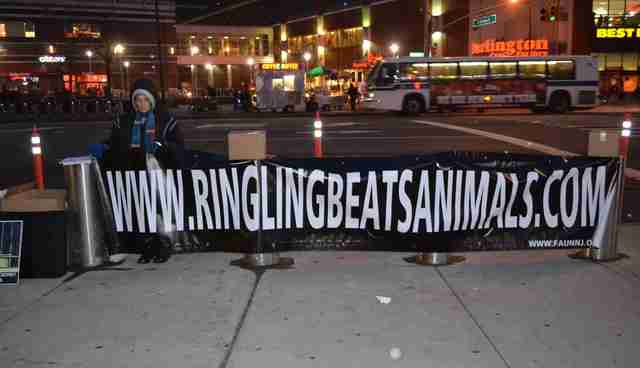 Representatives from several animal advocacy groups were there, including PETA, Animal Battalion, Long Island Orchestrating for Nature (LION) and Friends of Animals United. They cited the long list of animal welfare issues the company has dealt with in recent years, including a $270,000 fine from the U.S. Department of Agriculture for violating federal animal welfare laws in its handling of elephants, tigers, zebras and other exotic animals.
Rose McCoy, a 12-year-old activist who was arrested for protesting a SeaWorld float in the Rose Bowl parade in Pasadena in January, was there to protest the circus and hand out flyers to passersby. She said that she had spoken to multiple circus-goers who had either changed their mind and decided not to attend after talking to activists, or who vowed that this would be the last time they'd buy tickets. McCoy also said that the protest was one of many in her career as a young activist.
"It's important because animal abuse is basically the modern-day atrocity that needs to be taken down," she said. McCoy and her mother, Emily McCoy, have been protesting throughout the circus' week-and-a-half-long stay.
It's notable that Ringling Bros. no longer travels to Madison Square Garden, after an undercover PETA investigation in 2009 filmed elephant abuse at the arena. Trainers were filmed whipping animals with tools called bullhooks, apparently for no reason, before performing.
You can sign a petition calling for the end of the use of animals in Ringling Bros. circus on Change.org.