Maybe you're sitting at your work desk a little bored and you just need a link to something "real," or perhaps you just want to hear soothing sounds of nature from the comfort of your home ... or maybe you're just some kind of weirdo who loves spying on the animals' private residences. Whatever your interest, these cams feature a range of species: from a bald eagle to a hummingbird. Each image links to the live feed - just open and enjoy sounds and sights of fuzzy birdies. This is also a great way to learn about the behaviors of wild animals in a completely non-obtrusive way (and without having to sit in a tree for hours on end). This list is divided into two categories: raptors and non-raptors. Enjoy!

Raptors
1. Bald eagle (Haliaeetus leucocephalus)
(Hillsborough, NJ)
Not only the national symbol but an amazing conservation success story. Eagles, and other raptors, were once heavily endangered due to DDT exposure (a pesticide that weakened eggs to the point that they couldn't survive incubation)
A young eaglet has the fastest growth rate of any North American bird.
Eaglets in the nest will pick up and manipulate sticks, play tug of war with each other, practice holding things in their talons, and stretch and flap their wings.
Bald eagles build the largest and heaviest nests of any bird, giving the eaglets lots of room to develop.
2. Peregrine falcon (Falco peregrinus)
(Jersey City, NJ)
Besides being the fastest animal in the world, peregrines are known as accipiters or "bird hawks" and almost exclusively hunt other birds. In these kinds of birds of prey, the female is usually much larger than the male.
Not nest builders, but construct a "scrape", just an indentation in a rock face for their eggs.
Ferociously defend their nests against wolves, ravens, mountain lions, wolverines, eagles, bears and just about anything hungry enough to climb out to them - especially great horned owls! But here in Jersey City, they can enjoy a hassle free existence.
3. Osprey (Pandion haliaetus)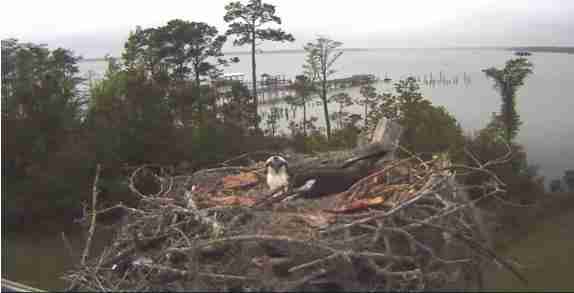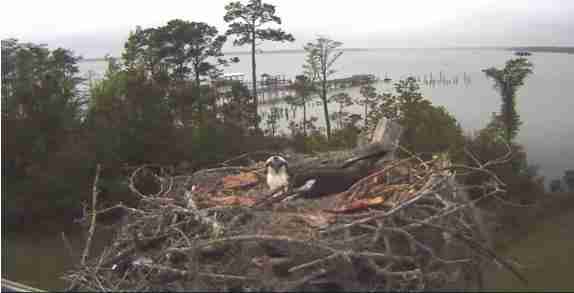 (Orange Beach, AL)
A.k.a the fish eagle or sea hawk - their diet is exclusively comprised of, you guessed it, fish.
They nest in very tall structures, using sticks, seaweed and other materials found near bodies of water.
Ospreys reach sexual maturity at age 3 or 4 but due to competition for resources might delay breeding until they're 6 or 7 years old.
4. Barred owl (Strix varia)
(Leesville, NC)
Cavity nesters, usually find shelter in holes created by other animals, like woodpeckers.
Besides being silent flyers, all owls have asymmetrically placed ears, meaning one ear is much higher than the other. This helps them pinpoint with extreme accuracy where sounds in the dark are coming from.
Small owls such as this face predation by larger species like the great horned owl and cats.
5. Great horned owl (Bubo virginianus)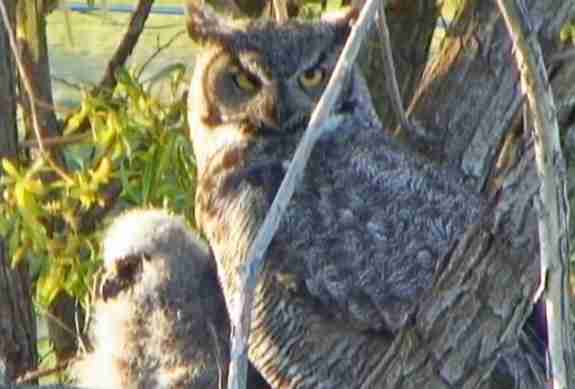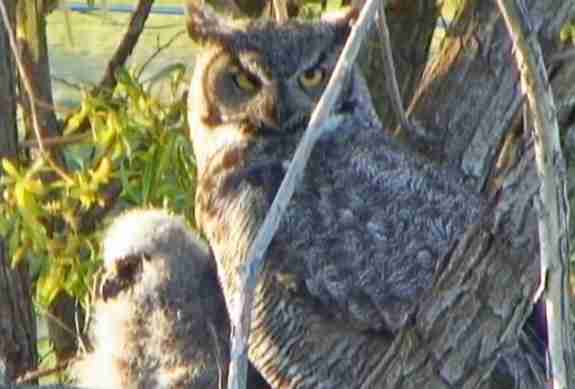 (Charlo, MT)

Also cavity nesters, they are extremely aggressive nocturnal birds and parents are known to defend their nest against humans who wander too close.
Exclusively monogamous birds, the female is also much larger than the male. Despite being monogamous, pairs roost separately.
Partners in Flight estimates the global breeding population at six million with about 45 percent of the population in the US.
6. Red-tailed hawk (Buteo jamaicensis)
(Cornell labs, Ithaca, NY)
These kinds of hawks are known as "buteos," large hawks with stout bodies and rounded wings.
The red-tailed hawk is one of the largest birds you'll see in North America, yet even the biggest females weigh in at only about 3 pounds.

Red-tails are cooperative hunters and often work together to flush out small mammals in hiding.
Non-raptors
7. Great blue heron (Ardea herodias)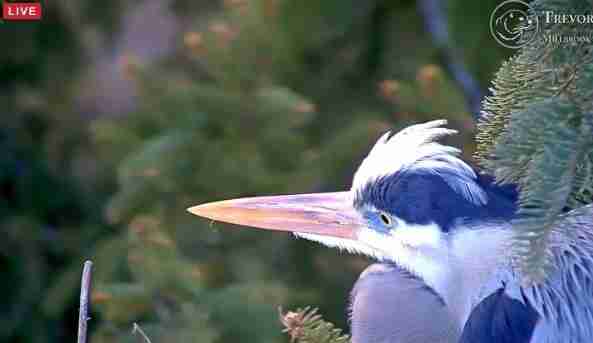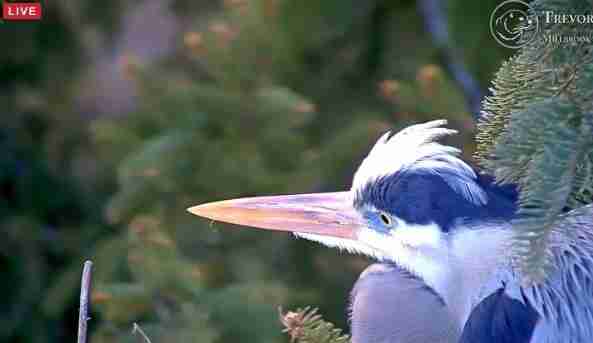 (Millbrook, NY)
Herons have specialized feathers on their chest that continually grow and fray into powder. They use this "powder down" like a washcloth to remove food debris and other oils from their feathers.
Both parents help construct their nests; males gather large materials like sticks to form a platform, and females continue the construction by weaving a soft nest inside the structure out of mosses and grass.
Baby herons make a noise that is described by experts as "soft cronking."
8. Allen's hummingbird (Selasphorus sasin)
(Orange Cty, CA)
Hummingbirds' body temperatures are near 107 degrees Fahrenheit. They possess such fast metabolisms that they are continually facing starvation, so during the long cold night when they are not able to feed, their bodies enter a hibernation like state called "torpor" and their body temperature drops to near 48 degrees Fahrenheit.
Hummingbirds are unique to the New World. The first Europeans imagined it to be a cross between an insect and a bird.
Hummingbirds have tiny legs and can neither hop nor walk, just scoot from side to side.
9. Laysan albatross (Phoebastria immutabilis)
(Kauai, HI) (Twitter feed for highlights)

Laysan Albatrosses usually don't start breeding successfully until age 8 or 9. The oldest known individual was 63 years old, and still nesting, in 2014.
Albarossess are monogamous pelagic birds and spend their entire lives at sea. They only return to land to meet their mate again and raise a single chick.
Help albatrosses from untimely deaths by reducing your plastic consumption, recycling and by limiting fish consumption and choosing sustainable seafood. These birds are confused by plastic litter in the oceans and will feed their chicks plastic shards thinking it is organic matter.
10. Common raven (Corvus corax)
(Wellesley, MA)
Males bring some sticks to the nest, but most of the building is done by females.
Extremely intelligent, these birds are worth watching for novel and interesting behaviors.
Young ravens examine almost anything new as they learn what's useful and what isn't.
11. American robin (Turdus migratorious)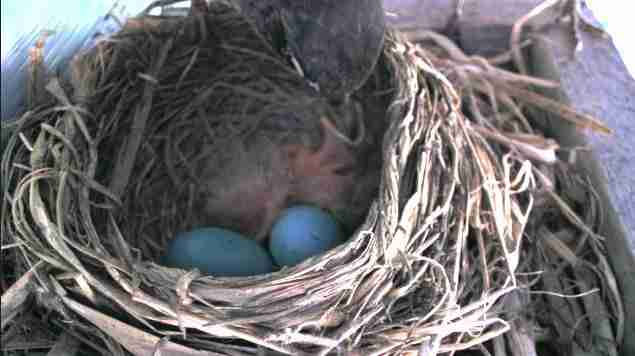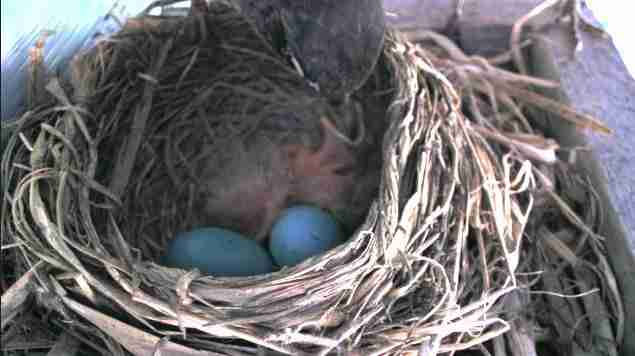 (Indiana, USA)

Robins can produce three broods in one year. On average, though, only 40 percent of nests successfully produce young.
Generally long-lived for passerines (perching birds), they can live up to 14 years.

Robins eat invertebrates they find on the ground, but also an enormous variety of fruits; chokecherries, hawthorn, dogwood, sumac, and juniper berries.

12. Bermuda petrel (Pterodroma cahow)
(Nonsuch Island, Bermuda)
An extremely rare seabird, the Bermuda Petrel was thought extinct for 330 years - it was brought back from extinction after the last remaining 18 individuals were found and is now the national bird of Bermuda.
Like albatrosses, they are slow breeders and breed once a year after the age of 5.
They feed exclusively from food caught at the surface of the ocean, gliding on the currents caused by waves.
Further reading on these birds can be found at allaboutbirds.org.