13 Overflowing Cats Who Prove Cramped Is Cozy
Cats have flexible spines for climbing trees and jumping long distances, but this pliancy also helps them stuff their bodies into tiny spaces. Cats like to rest in small area where they feel protected from predators, but these domestic kitties have nothing to fear from us ... except that we'll take a pic of them overflowing from their cozy spot.
1. The strongest cardboard box ever?
2. Timber!
3. Boxed in
4. "You could put some milk in this teacup. Just sayin'"
5. Purrfect camouflage
6. "Step away from that faucet."
7. The paw hole makes it feel roomy.
9. Just enough leg room. For legs. And nothing else.
10. "I resemble that remark."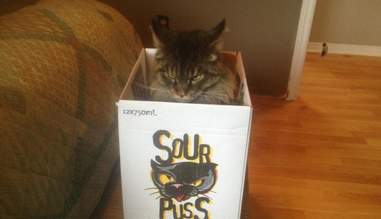 11. Paws up. Tail in hand. Life is good.
12. "What? That bed didn't look comfortable."
13. "I'm in a glass case of emotion! Wait, is 'calm' an emotion?"