A powerful storm forced postponement of the "Whale of a Day" festival scheduled for Saturday at the Point Vicente Interpretive Center on the Palos Verdes Peninsula.
A gray whale's fluke and a large storm cell on the horizon But for dedicated volunteers who count whales there daily throughout the gray whale migration period, the phrase could not be more apt.
The ACS-LA Gray Whale Census and Behavior Project volunteers, braving periodic squalls but somehow avoiding the brunt of the storm, marveled at what turned out to be a very surreal, day-long parade of Pacific gray whales.

Between dawn and dusk, as squalls darkened the waters and massive waves pounded the shore, they counted 101 gray whales: 94 northbound and seven southbound.
"It was like someone threw whales from the sky onto the water," said Alisa Schulman-Janiger, director of the census and behavior project. "They were just everywhere."
It was the highest single-day northbound count since March of 1989, though it fell well short of the single-day overall record of 152 gray whales (northbound and southbound), on March 2, 1988.
The board used to tally whale numbers Saturday's count was a sure sign that the northbound gray whale migration, from Baja California nursing grounds to Arctic home waters, has begun for at least some of an estimated population of 25,000 animals.

It also supported a theory, based solely on observations, that gray whales sometimes migrate closer to shore, at least initially, during powerful storms that generate streams of runoff.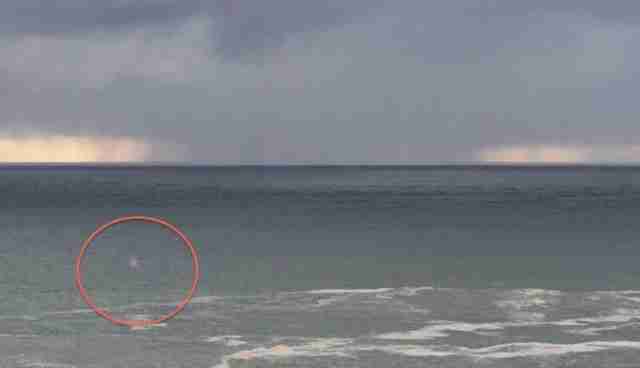 A gray whale blowing mist just beyond the froth generated by runoff and breaking waves "After or during a massive storm, we often see more whales hugging the coast," Schulman-Janiger said. "It could be that they're seeking protection, or that the brackish water helps them loosen parasites. We just don't know."
On Sunday the tally dropped to 29, about normal for this time of year.
Schulman-Janiger said the only counts that exceeded Saturday's occurred during the first five years of the census project, from 1984-88.
Volunteers at Point Vicente Interpretive Center.
The 101 whales were counted during a total of 57 sightings. The breakdown: 26 single whales, 22 pairs, six trios, two groups of four, and one group of five.
Schulman-Janiger said she hardly had time to see for herself, as she was too busy marking down sightings made by volunteers, who were careful not to count the same whales twice.
"I remember seeing these large numbers, in those first five years," the researcher said. "But the volunteers who were there Saturday hadn't seen anything like this. It's something they're going to remember forever."
The Whale of a Day festival, which is free to the public, is now scheduled for April 5.
This story originally appeared on Petethomasoutdoors.com.
Photo Credit: Alisa Schulman-Janiger