The popular human courtship behavior -- dinner and a movie -- pales in comparison to the elaborate dances and displays of many other animal species. Here are 10 of the most impressive -- maybe even romantic -- mating rituals of the animal world.
1). Flamingo Flamingos congregate in a private place and form a large huddle -- then they dance. The pink birds waddle through the water together, turning their heads from side to side looking for a mate.
2). Dung Beetle A male and female dung beetle will work to make a giant "brooding ball" of feces, which the male will then roll to their breeding ground while the female hitches a ride.
3). Greater Sage Grouse Sage grouse mate in leks, in which males arrange themselves based on their social hierarchy and attract females to mate accordingly.
4). Scorpion Scorpions will grasp one another's pediplaps -- those front appendages that look like claws -- and dance back and forth until they're ready to mate.
5). Blue-Footed Booby The blue-footed booby male will begin by lifting its feet up and down to show off the turquoise color; females follow in symmetry, with both birds flapping their wings and facing skyward.
6). Hooded Seal A male hooded seal will inject hair into his hood -- a flap below his nasal cavity -- to inflate a bright red membrane on his face, which expands like a balloon from one nostril.
7). Peacock Spider The peacock spider males have an extension flap of hairs extending from their abdomens, which they'll extend into a broad circle of color when trying to entice a female to mate.
8). Turtle As some turtle species swim through the water together, one will approach the other's face and vibrate its front claw up close.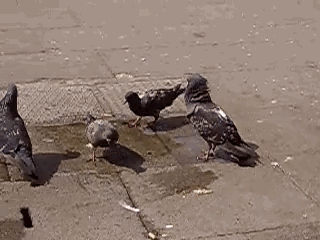 9). Pigeon While the female pigeon goes about her business, the male loops around her, trying as he might to get her attention. He won't attempt to mate before she gives him the go-ahead.
10). Peacock Peacocks have perhaps the most well-known mating display. Male peacocks have an elaborate tale of covert feathers, which they expand behind them while shaking their behinds, indicating that they're ready to mate.