Despite all the technological advances, video games have a tough time accurately depicting real life. For instance, plumbers in real life have great difficulty leaping majestically in the air while carrying hundreds of enormous coins. When it comes to the animal empire, video games are as factual as an internet spam ad, and the poor, adorable hedgehog has gotten the worst of the misinformation.
(Source: Flickr)
Sonic the Hedgehog may be an icon of fast-paced platform games, but it's perhaps more accurate to classify him as Smurf than a hedgehog. Or maybe an alien? Real hedgehogs are more complicated, more hog-like, and much more prickly. It's illegal to own one as a pet in some cities, but not because they will burst through your walls and steal all your rings. (Some states classify them as wild animals.) So while the critter is among the cutest nature has to offer, it's perhaps best to admire them from afar.
Here's why Sega needs to take Zoology 101 before they make a new game.
1. Most Hedgehogs Are Nocturnal
(Source: Flickr)
While they do pop out occasionally, they spend most of the day sleeping ... a lot. They sleep for up to 18 hours. Every time you see Sonic running in the brightly lit daytime forest, he's probably groggy, cranky, and in need of a nap. And he wouldn't be so nimble, and would just stumble around. Imagine how you'd feel if you had to wake up at three in the morning to run loops and collect rings?
2. Hedgehogs Can't Roll Very Fast
When danger is near, a hedgehog curls up into a ball and extends its quills to protect its belly. With the quills extended, it would be rather difficult to roll at a brisk enough space to launch off ramps. The spines would drag into the ground or get stuck like a high heel in mud.
3. Hedgehogs Are Not Blue
There are 17 species of hedgehogs in the world, and none of them are blue -- not even the cold ones. The coloring ranges from light beige to dark brown, and some have black coloring around their faces and at the base of the quills. Speaking of quills, hedgehogs are not closely related to porcupines. (Unlike porcs, hedgehogs can't shoot their quills like some furry Katniss Everdeen, and the quills of a hedgehog aren't barbed like a porcupine's.) Hedgehogs are more closely related to shrews and moles. So calling a hedgehog a porcupine is like calling a dog, a cat. Or like calling Ashton Kutcher an actor.
4. Foxes Eat Hedgehogs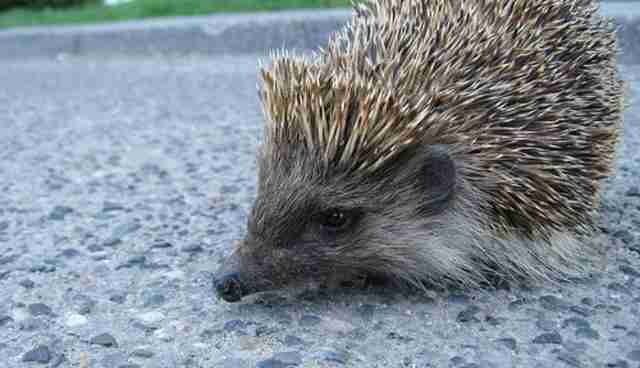 Sonic's best friend is a two-tailed fox named Tails. In the real world, foxes are one of the primary predators of hedgehogs, along with owls and wolves. There's a chance Sega knew this and was being poetic when it paired the two together. Perhaps their next game will be about a Yankees fan who befriends a Red Sox fan.
5. Hedgehogs Don't Bounce On Their Prey
While Sonic defeats his enemies by bouncing on their heads, real hedgehogs go the more traditional route: They bite. Hedgehogs have up to 44 teeth which they use to chomp down on slugs, bugs, and other small critters in the grass. Sadly, hedgehogs rarely eat robots.
6. Sonic Should Think About Retirement
Hedgehogs have an average lifespan of 3.5 years, and can live up to 9 years in some cases. The oldest hedgehog on record was 16 years old. Sonic celebrated his 23rd birthday this month, which means the next game may be called Sonic: Let's Wear High-Waisted Slacks And Eat Supper At Noon!
7. Hedgehogs Don't Walk Upright
They stick to all fours so their powerful noses stay close to the ground. Some hedgehogs can get up up on their back legs, but only to climb up small piles of wood. And they don't wear sneakers or gloves. In fact, fashion isn't very important to them at all since they have terrible eyesight. Hedgehogs rely on their sense of smell and hearing to navigate, so you should be able to play all Sonic games with your eyes closed.
8. Hedgehogs Act Strange Around New Smells
Sonic zips through new locations like a rude tourists, but real hedgehogs soak in their surroundings more. When a hedgehog encounters a new smell, it may search out the source of the smell, and then bite and lick whatever is making the odor. Then it will make a froth with its saliva and spread the spitty perfume all over its quills in act called "self-anointing." Why? No one knows for sure. It may be a type of smelly camouflage, or maybe hedgehogs are just really bored.
9. They Are Fast ... But Not THAT Fast
Hedgehogs are pretty swift, when they're not busy sleeping 18 hours a day. Just don't expect them to crack the sound barrier...or even win a race against a dog. Common hedgehogs can run in short bursts of speeds of about 4 mph. (Jack Russell terriers, for instance, can bound to speeds of 25 mph.)
10. They Don't Talk ... But They Snort
When Sonic first appeared, he didn't talk. And even though modern-day Sonic is a chatterbox who speaks perfect English, real hedgehogs communicate with nasally oinks, huffs, and snorts.