10 Delicious Plant-Strong Meals Kids can Enjoy in the New Year!
With January marking a new year, now is the perfect time to promote healthful eating habits.
This message is being heard loud and clear in many schools throughout the country. Increasingly, schools are recognizing the importance of introducing more plant-based meal options and advocating for Meatless Monday or meatless Lean & Green Days, along with offering plant-strong entrée options every day of the week. Encouraging kids to choose more plant-based meals will have a beneficial impact on their health for a lifetime.
Before you start packing your child's lunch, you may want to check out your child's school lunch menu. You just might find items like the following ten delicious menu options schools are preparing and offering to students each week.
1. Fantastic Falafel Burger
Each year, students from various Sarasota County Schools in Florida are chosen to work with local chefs as part of the Chefs Move to Schools initiative to develop recipes that will be featured on the school menus later in the year. The recipes must meet cost parameters along with federal and state nutrition standards, all while including locally sourced produce items. This recipe was the brainchild of Chef Bryan Jacobs and the students at Gocio Elementary School.
2. Harvest Chili with Quinoa
Students in Hillsborough County Schools in Tampa, Florida get a protein-packed, energy-rich delicious entrée choice with this entrée! High school athletes would be wise to get in line for this one. Developed by the department chef and featured in both the "Try it Tuesday" program, the recipe received the approval of students, and made it to the main menu as a delicious plant-strong Lean & Green option. This recipe is so versatile; it can be featured alone, over a baked potato or over whole grain macaroni noodles.
3. Oriental Lo Mein
Hoover City Schools in Hoover, Alabama began its Meatless Monday program last year as a way help meet the United States Department of Agriculture's demand for healthier meals at breakfast and lunch. Students were introduced to several original recipes, like this tempting lunch option. Made with whole grain spaghetti noodles, a variety of fresh vegetables and chickpeas, this meal is not only visually appealing, but tantalizing on the taste buds.
4. Fiesta Rice Bowl
The Fiesta Rice Bowl looks like a party on a plate. The vibrant colors of the corn, salsa and fresh cilantro add a great contrast to the protein- and energy-packed black beans and brown rice. Tracy Unified School District in Tracy, California offers this recipe on California Thursdays to feature all locally-sourced ingredients.
5. Use Your Noodle Stir-Fried Tofu and Bok Choy
Students at Oakland Unified School District in Oakland, California know good food. They are offered delectable dishes like this every Monday as part of OUSD's successful Meatless Monday program. This stir-fry combines whole grain yakisoba noodles, local baked tofu, fresh vegetables and herbs with a sesame ginger sauce. Perfection.
6. Asian Tofu Noodle Salad Bowl
High School students attending San Diego Unified Schools in San Diego, California are in for a treat with this Meatless Monday menu option. This recipe combines whole grain noodles, fresh vegetables, chickpeas, mandarin oranges and local baked tofu with a sesame dressing over crisp romaine lettuce. Sounds like a delicious way to support the local economy.
7. Zesty Orange Beyond Chicken with Chow Mein Noodles
Tustin Unified School District in Orange County, California originally developed this recipe for its Meatless Monday program and saw an increase in student participation. This recipe creatively incorporates the Beyond Meat non-GMO chicken-free strips with whole grain chow mein noodles with a zesty orange sauce topped vegetable medley. Tustin found using the Beyond Meat products helps to cut down on the saturated fat and sodium levels in recipes.
8. Beyond Beef Bolognese with Whole Grain Spaghetti
When Dallas Independent School District in Dallas, Texas began its Lean & Green initiative, nutrition staff partnered with local Whole Foods Dallas Chef John Mercer to develop and test their meatless fare. Of the ingredients tested were Beyond Meat beefless crumbles. Not only are they made completely from non-GMO pea protein and allergen-free, they met the approval of Dallas students. Now students enjoy satisfying meatless versions of some of their favorite recipes, like this Italian classic.
9. Taco-the-Town with Caliente Corn Salsa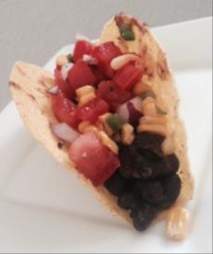 Schools can spice up their menu with this easy to prepare, kid-friendly taco. Students can choose from whole grain corn or flour tortilla shells and the vibrant tomato and corn salsa can be served on the side. Serve with brown rice, apple slices and a side salad. Bon appetite.
10. Mighty Marinara and Chickpeas
This simple and delicious recipe will cater to the pickiest of eaters! Chickpeas add a protein punch to the classic pasta with marinara. For a different menu concept, or to meet the needs of gluten-free students, pair the sauce with brown rice.
Choosing to participate in Meatless Monday, Lean & Green Day or similar plant-strong initiatives throughout the week provides vital support to efforts for increasing produce consumption, supporting Farm to School and the local economy, while working to create a "culture of health." There's no better time than the New Year to implement the 3Rs of reducing or replacing the consumption of animal products and refining our diets by choosing animal products that adhere to higher animal welfare standards. Start today making a positive change that will help kids eat right all year long.
To find more recipes like these be sure to check out humanesociety.org/mmk12recipes.
Karla Dumas RDN, is a registered dietitian with The Humane Society of the United States. Dumas worked for a decade within school food service management in Florida.