'Miracle' Cat Dies After Heroic Rescue [UPDATE]
<p> <a class="checked-link" href="https://www.facebook.com/pages/Friendship-Animal-Protective-League/168146441470">Facebook/FriendshipAnimalProtectionLeague</a><span></span> </p>
Despite rescuers' best efforts, Nicky - the feline who was hailed as a miracle cat - passed away on Sunday. He had bravely survived outside on his own in bitter winter temperatures for 17 days.
When a woman in Elyria, Ohio, found Nicky on Thursday, the 10-year-old orange tabby was completely frozen to the ground. She took him to the Friendship APL, who, in turn, rushed him to a nearby veterinary hospital.
The staff who treated the cat were shocked he was still alive when he was brought in. "This cat, by all accounts in my mind, should be dead," Greg Willey, the director of the Friendship Animal Protective League (APL) told Ohio station WKYC last week. "The fact that this cat is still alive is miraculous."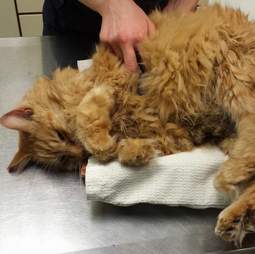 "The cat was basically stiff as a board," Willey said. "The best way for me to describe it is, he looked like he came out of a meat locker."
It appeared, though, that Nicky might pull through. When the staff showed him some food, he lifted his head. "He perked up and went right after it," Berardi said. "So we knew then, okay, get the catheter in. Let's try."
The tabby's frostbitten paws were wrapped up, and his rescuers had hoped he was on the road to recovery.
Right after the rescue, the Friendship APL posted pictures of Nicky on their Facebook page, and a few hours later, they got an excited call from the Darmafall family. The cat was actually their beloved Nicky, an indoor cat who had gotten out and had been outside for more than two weeks. The family hurried to the hospital, where they had an emotional reunion with their cat.
Unfortunately the injuries Nicky suffered during his time outside in the cold were too severe, and he passed away on Sunday. The Friendship APL announced his passing on their Facebook page. Willey told WKYC that the Darmafall family was happy to be reunited with Nicky before he passed away.
Winters can be hard on cats, even if they're accustomed to going outside. The Humane Society encourages drivers to tap on their car hood before starting it up in the morning, as stray cats in winter often take refuge inside of car engines or under tires.
UPDATE: This story has been updated following the unfortunate death of Nicky on Sunday.