In a video released this week by PETA, actress Holly Marie Combs slammed SeaWorld for its cruel orca breeding practices, and shared why she thinks everyone - especially all moms - should boycott the park along with her.
"If you believe that a mother should never have to know the pain of having her child torn away from her, boycott SeaWorld," Combs said.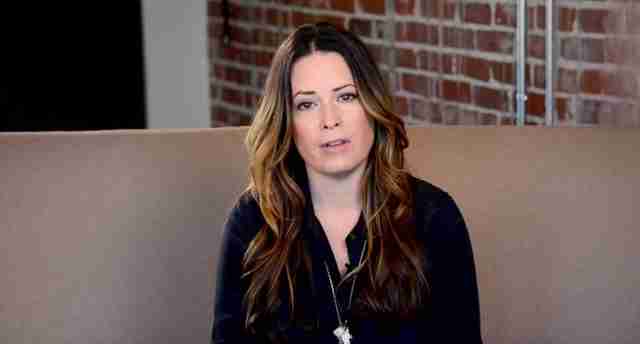 Combs got emotional as she described the trauma that orca mothers who live in captivity undergo when their children are taken from them, often to live and perform in marine parks in other states or countries. These orca mothers will never see their babies again, despite the fact that in the wild, orcas live in family structures and many calves stay with their mothers their entire lives.
Combs, who has also worked with The Dolphin Project, spoke to The Dodo about her history with SeaWorld.
"I was born in San Diego and, despite my family's limited means, they managed to get me to SeaWorld at least a couple times a year," Combs said. Once she became a mother, Combs wanted to to share that experience with her own children, and it was during a trip with her family that Combs realized for the first time that something was wrong at SeaWorld.
"As we were standing on the jetway above all the orca tanks, my son, who I think is clearly going to be in a similar state of awe as me says, 'Where do they go at night?' I replied oh so eloquently, 'Huh? What do you mean at night?' He turned back to the tanks to study the perimeters again and said very carefully, 'It's just so small. They can't stay just here all day and all night.' This was the first time I can honestly say I knew where the expression a 'cold chill' comes from, because one went right down the back of my neck. He was right."
Combs said that as she looked around with "newly widened eyes," she realized there were too many orcas in too small a tank, and that they seemed to be playing with "weird plastic floats" to keep occupied, or, as she puts it, "to not go insane from pure boredom."
"Nowhere to go, nothing to do, and, from the looks of it, nothing good on the menu. Standing there with the weight of all I knew about the ocean, I realized these multiple tanks were not big enough for even one single orca," she said. "I was so ashamed."
Combs said that after one visit, and after the tragic death of SeaWorld trainer Dawn Brancheau and the release of "Blackfish," she knew she had to get involved.
"The shame in me was suddenly replaced by a sense of purpose I can now only explain as coming back to myself," Combs said. "So, I started to work for Sea Shepherd and PETA and anyone else who would campaign for 'Blackfishes' around the world with me."
An orca mother and her calf swimming in the wild (NOAA/CC BY-SA 2.0)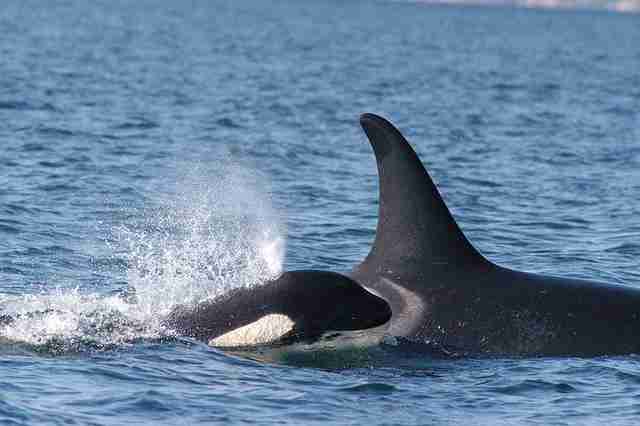 SeaWorld has garnered a lot of criticism for its orca breeding program, which often isolates pregnant mothers and then separates them from their babies, and the controversy led to significant financial losses in 2014 as well as the replacement of its CEO.
Combs is not the only celebrity to take a strong stand against their practices. Conan O'Brien used his late-night show as a platform to criticize SeaWorld's planned expansion, and Steve-O made his opinions pretty clear with this stunt over the summer. But you don't have to be a celebrity to get involved: You can contact SeaWorld to voice your opinion about whales in captivity, and you can sign this petition to throw your support behind proposed legislation in Calfornia that would end orca cruelty.
Combs is optimistic about the future, saying that she believes her own children will become part of a new generation of activists campaigning for the rights of orcas in captivity. "Look out, SeaWorld," she said. "The younger generations are coming for you."